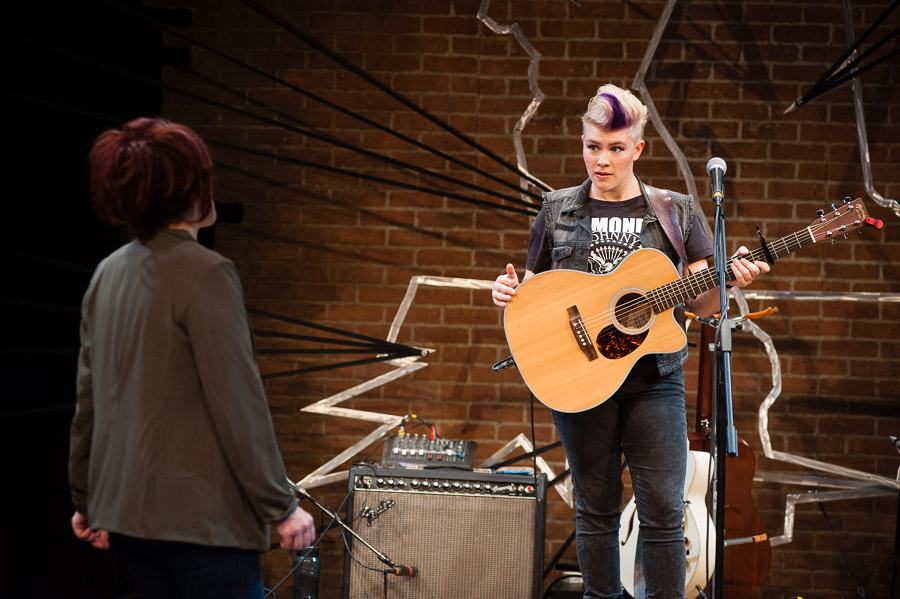 Love Bombing is the attempt to influence a person by lavish demonstrations of attention and affection.
That doesn't sound too bad, except the phrase makes its way into the lexicon from the Unification Church, a cult founded by Sun Myung Moon, as a method of recruiting youth.
From there, the expression has made its ways to pimps and gang members as ways to recruit and control members, and to lure young girls into prostitution.
It's a heavy topic, and explored in a frank and daring way by shameless hussy productions, a touring theatre company out of the Lower Mainland.
They'll be in Tumbler Ridge on Thursday to present the play at the Tumbler Ridge Secondary School; once in the afternoon for the kids, and once in the evening for the adults.
BC Crown Prosecutor Peter LaPrairie says Love Bomb is "a great play and the music was amazing. It does a good job of setting out the dynamics of human trafficking and it was very clever. The way they brought out how a trafficker lures his victim. The prosecutor from the Provincial Crown who handles the human trafficking cases was in the audience and a lot of what was portrayed in the play closely resembles what she deals with in her cases. Great work."
The play is being brought to town by TR Cares and the RCMP. It tells the story of a mother who is searching for her missing daughter. She interrupts a rising music star during sound check, and accuses her of stealing lyrics written by her missing daughter.
The lyrics were taken from a diary that the star found in the back of an ex-boyfriends car, and, through the songs and through the interaction between the two performers, the mystery is revealed.
The subject would seem to be something that is a big city problem, but the play is set in Fort St. John, and the issue is something that is dealt with in small towns across the province.
Playwright Meghan Gardner says the show is about the power of love, but not in a Huey Lewis sort of way. "It is about love being used as a tool and a weapon," says Gardner. "And in that sense it is about the power of love."