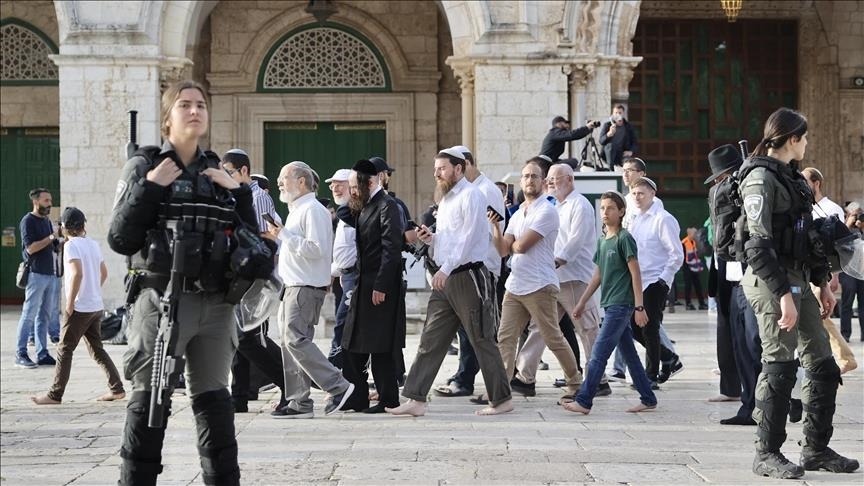 Israeli settlers stormed the mosque's esplanade at al-Aqsa on Sunday, under close watch by Israeli police.
Dozens of Israeli police were stationed on the mosque's esplanade before allowing the settlers to enter.
The invasion was carried out through the door of the Maghribs, at the level of the western wall of Al-Aqsa Mosque.
A small number of Palestinians performed the "Al-Duha" prayer in front of the "Al-Qibli" mosque, chanting religious calls and prayers.
Some worshipers chanted "Allahu Akbar", rejecting repeated incursions into the holy sites by Israeli settlers.
Israeli settler groups have called for a large-scale attack on the Al-Aqsa Mosque ahead of the week-long Jewish Passover holiday that began last Wednesday.
Israeli police prevented young Palestinians from entering Al-Aqsa Mosque to perform dawn prayers, witnesses said.
Meanwhile, Israeli opposition leader Yair Lapid, in an interview broadcast by Israel Public Radio on Sunday morning, called on the Netanyahu government to take the necessary measures after tensions escalated at Al-Aqsa, accusing National Defense Minister Itamar Ben-Zvir of trying to start arson in the Middle East.
Lapid said Netanyahu's government was responsible for the increased tension in Palestine.
"That's what happens when you give such responsibility to a very radical man in the state of Israel," he added. And calling him "a Tiktok clown" who wants to set the Middle East on fire.
Earlier on Sunday morning, dozens of Israeli settlers raided the Al-Aqsa Mosque esplanade under heavy Israeli police protection.
Dozens of Israeli police were stationed on the mosque's esplanade before the settlers approached.
The occupied city of Jerusalem has been the scene of clashes since early last week following nighttime incursions by Israeli police to prevent worshipers from observing the "itikef" ritual.
This continued incursion has led to tensions and clashes in the Palestinian territories and Arab areas within Israel, as well as rocket attacks from Lebanon, Gaza and Syria.
"Coffee trailblazer. Social media fanatic. Tv enthusiast. Friendly entrepreneur. Amateur zombie nerd."