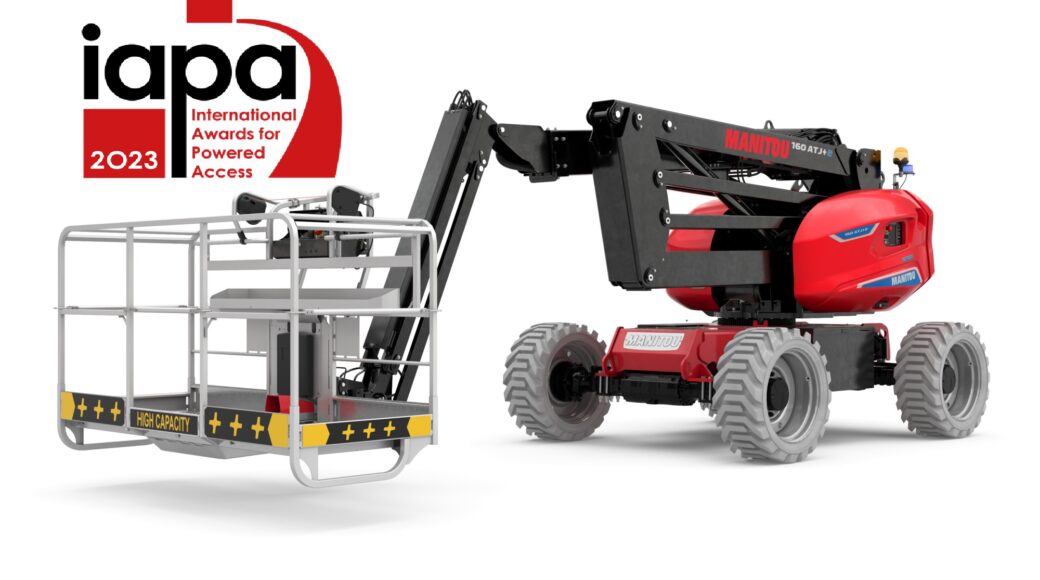 Genie was recognized for its sustainability efforts at the 2023 International Awards for Powered Accessibility. MEWP is selected by an independent panel of judges representing the MEWP industry for implementing innovative solutions, projects or programs that demonstrate how the company adapts its operation and/or its products to environmental issues.
The 2023 IAPA winners were announced at the IPAF Summit on April 19-20 in Berlin, Germany. Will Westley, Genie VP Sales & Support, EMEARI and Corrado Gentile, Senior Regional Product Manager, EMEARI, accepted the award on behalf of Genie.
"Across our industry, job sites and our customers are increasingly turning to manufacturers to help them reduce their environmental impact and achieve their sustainability goals," said Westley. "Genie's product portfolio is already 70% electrified, which helps reduce workplace emissions and reduce noise pollution. But our commitment to sustainability – and helping our customers achieve their goals – goes deeper. It's reflected in our carbon reduction programs, our recycling and energy efficiency operations, and our global manufacturing and office footprint is also reflected in efforts such as the increasing use of clean energy technologies.
Genie's sustainability programs span multiple countries and continents and are led by leaders and team members. Here are some examples.
Genie's new manufacturing facility in Monterrey, Mexico, was designed and built to meet LEED Silver standards, which reduce heat absorption, increase efficiency and reduce energy consumption, reduce water consumption and encourage alternative modes of transportation. The group also has a strong citizenship program that includes collecting and recycling plastic bottle caps; Proceeds are donated to a local cancer charity.
Geni's manufacturing facility in Umbertide, Italy has implemented energy conservation and clean energy solutions and projects designed to reduce waste. In addition, the group collects and recycles personal protective equipment (PPE) to produce secondary raw materials. Instead of throwing away old safety shoes, Genie team members store them in a box inside the facility so they can be recycled into shock mats for children's playgrounds.
In Moses Lake, Washington (USA), the modernization of facilities led to a reduction in energy consumption. An aluminum can recycling initiative led by one team member helps reduce waste and donates US$3,000 to a local charity, the Columbia Basin Cancer Foundation.
In Changzhou, China, team members have started a "recognition forest," planting trees to celebrate team members and milestones.
As a brand of Terex Corporation, these Genie initiatives contribute to broader sustainability goals, including a 15% reduction in greenhouse gas (GHG) emissions by 2024 compared to 2019, and footprint goals to reduce global energy intensity. These goals are set at Terex. ESG 2022 Report.
"Being a good citizen and being a good steward of the environment is a core value at Terex. Our teams have taken this commitment seriously, finding ways to reduce emissions and waste and use energy more efficiently, even in this challenging operating environment," said Stacey Babson Kaplan, senior vice president and chief development officer. ." We are very proud of the progress our teams have made and it is wonderful to see the Geni team recognized for their work. »
"Coffee trailblazer. Social media fanatic. Tv enthusiast. Friendly entrepreneur. Amateur zombie nerd."