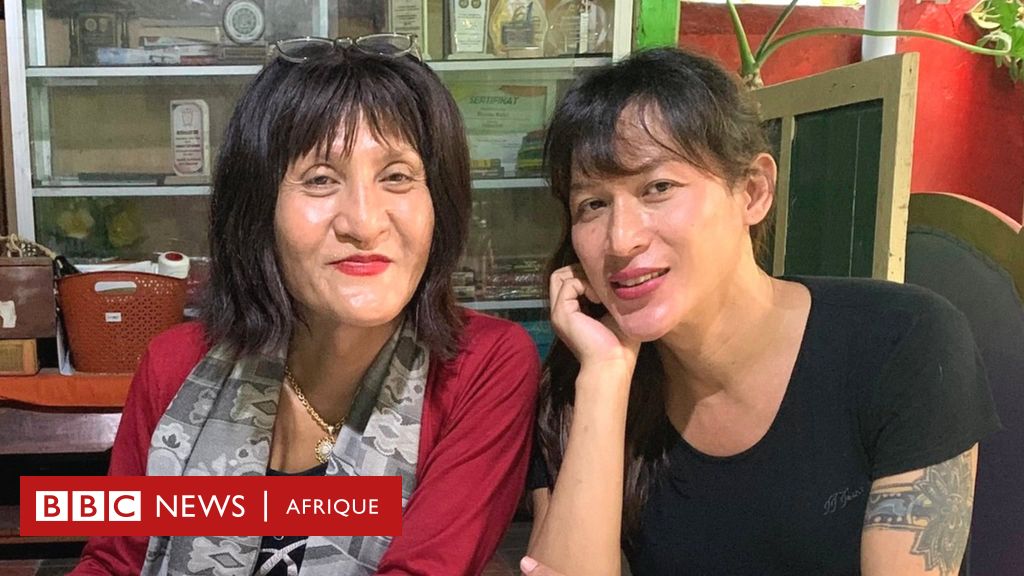 Trisha Hosada and Sepano Hakit Maulana
BBC News Indonesia
The future of Indonesia's only Islamic center for transgender people is in jeopardy after its director, Shinda Ratri, died last February and the government announced it could no longer support it.
63 Transgender people regularly visit the Al-Fath Center, which provides them with a safe place to pray, read the Qur'an, learn skills, or talk and befriend non-judgmental people.
Renee Kaling is one of them.
When she wakes up in the morning, she gets dressed and puts on her favorite black wig, then grabs her handbag and sits on the streets of historic Yogyakarta to sing, hoping passers-by will give her financial donations. .
Renee travels long distances and sings to make ends meet. But on Sunday, his trip ends with a visit to Al-Fath Center for Quran study.
"It's a safe place to pray," said Renee, who has been coming to the center since 2014.
During his childhood, Rene always preferred to play with girls rather than boys. She liked to dress up as a girl, play with dolls that looked like kitchen utensils, and dress up as a bride.
When he told his family that he was transgender, his parents and nine siblings accepted his identity. Now people who see her singing and dancing on the streets know her face.
"You could say I'm a celebrity here," laughs Renee.
Renee was introduced to the Transgender Islamic Center by a friend who wanted to study religion.
Through her, she discovers a whole community of trans women who share the same desire.
When she went to the mosque for prayers, she was often stared at. "They didn't necessarily accept us, so I started going to the Chinta Rathri Centre," she says.
"Many Islamic centers do not accept transgender people. Here we are free… to come as men or women, whichever way we feel comfortable," explains Noor Ayo, who is in charge of the direction. Center.
Shinda Ratri is one of the founders of Success Centre. Shinda, who has led the center since 2014, is a well-known activist and has worked with several non-profit organizations to advocate for transgender rights in Indonesia.
But he died of a heart attack last February aged 60 and spent three days in hospital.
He describes Noor Shinda as a role model and a member of his family, and says the center feels "empty and abandoned" without her.
Shinda's death cast doubt on the centre's future. The building belongs to his family and they have asked its members to vacate it.
"We should continue to be independent without Shinda," says Noor.
The secretary of this center is YS. Al-Buchori said the center has received support and endorsements from friends in the transgender community and organizations involved in human rights advocacy locally and internationally.
However, the religious establishment in Indonesia has limited acceptance of the transgender community.
Community members say that while the government does not deliberately harass them and allows their presence, it does not provide them with any kind of direct support.
Waryono Abdul Kafur, director of Islamic centers at the Indonesian Ministry of Religious Affairs, says he is aware of the plight the Al-Fath Center is facing.
But since the Islamic center lacks legal status under the country's laws, the authorities cannot extend support to the centre, he adds.
In a phone call to Indonesia's BBC, Abdul Kafur said the government in general "supports all positive actions. If people want to pray, why should we stop them?"
But he said reality indicates that society "still rejects the social and religious status of transgender people". It should be noted that the Ministry of Religious Affairs never directly interacted with the Al-Fateh Center or provided facilities for its activities.
Roli Malai, one of the centre's leaders, says they are grateful for "every kind of legitimacy that has been given to us".
He is hopeful that one day the transgender community will be accepted in a country as diverse as Indonesia. This belief motivates her and her friends to keep the center open.
And he adds: "Islam must provide everyone with a place to worship freely according to the norms of religion".
"I think the security provided by the government is good and we are confident that the government will respect us as part of unity in diversity in the future. [la devise de l'Indonésie].
The challenge now is to find a new headquarters for the center and the necessary funding. It should be in a transgender-friendly neighborhood.
They are welcomed by the district now centered in the city of Yogyakarta.
Ms. Roseda lives in the neighborhood and is not transgender. She came to know about the center when some of its members asked her to guide her to its location. Now Roseda has been teaching at the center for a year.
Shinda Ratri offered to continue her studies there on a voluntary basis, and Rosita accepted after getting her family's blessing.
"At first I was afraid of them, but after coming here and starting to teach, I found these people, especially Shinta, very simple and calm. They are always patient, never angry, always smiling," Roseda recalled.
Another volunteer, Teku Raito, teaches Koranic reading to the center's members. He says he was inspired by the determination and perseverance of his students, some of whom traveled great distances to join him.
"Even if they have an hour to learn the Qur'an, they come from afar."
It took time to gain the sympathy of the people of the district.
Al-Buchori recalled an incident in 2016 when an extremist Islamist group entered the center and threatened them.
"They said they would hunt us down wherever we went until we repented and became human again."
It was Shinda Ratri who fought to keep the center open, with the help of several non-profit organizations, until she finally got a security guarantee from the local police.
Al-Buchori says the lives of transgender people attending the center have improved since they started going, as they accept the moral responsibilities dictated by Islamic teachings.
He adds: "After joining the school and getting closer to God again, life gets organized and this community becomes a second family.
That's why she hopes the center will continue to offer religious education and counseling to transgender people like her who want to come closer to God.
"I still need God. I can't live without prayer. I'm sure other trans friends have their own reasons."
Al Buchori says she believes she has a higher purpose for her existence: "As God's creation, my life's purpose is not just to work and live as a transsexual."
"Coffee trailblazer. Social media fanatic. Tv enthusiast. Friendly entrepreneur. Amateur zombie nerd."