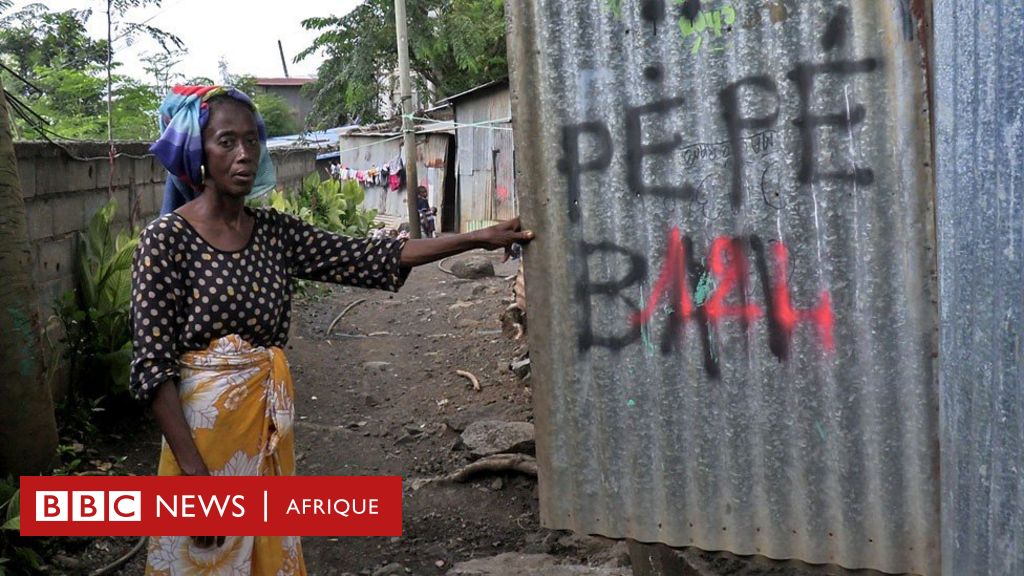 By Marina Taras
BBC Africa
Christian Alli Moussa didn't tell anyone that he had decided to board a small boat to cross the 350km perilous stretch of the Indian Ocean between Madagascar and the French island of Mayotte.
Desperate, he had made the perilous crossing twice before.
He had to return to the place from which he had been expelled a few weeks earlier, as he had to attend a hearing on his application for French citizenship.
After years of saving to pay her legal fees, the 42-year-old hopes to be able to claim the EU passport she deserves at birth.
He was entitled to a passport because his father was a French citizen from the French overseas territory of Mayotte, 8,000 km from Paris. In almost every respect, Mayotte should be treated like any other part of France.
But Mr. Born and raised in Madagascar, south of Mayotte, Moussa fought to be recognized as a French citizen.
Since 2004, he, like many others, has lived in Mayotte intermittently without the necessary documents, while supporting his wife and children in Madagascar.
But a French passport would allow him to become a legal resident, giving him more opportunities.
Famous for its beautiful coral reefs and lagoon, Mayotte is home to 300,000 people.
It is the poorest region of France, but it is rich compared to the neighboring islands of Madagascar and Comoros on the southeast coast of Africa.
A few weeks before his default interview, Mr. Moussa was arrested by French immigration police and deported to Madagascar.
"The police wanted to burst in and take Christ away," says his cousin, who we will not name for security reasons.
"He asked me to get his shoes but when I came back with them they had already taken him.
Mr. Moussa was found in the only detention center in the main town of Mamoudzou.
"We talked on the phone and he was crying a lot and didn't want to go back to Madagascar," the relative says.
The family then contacted a lawyer and filed an urgent appeal to block the eviction.
Mr. Moussa was due to appear before a judge at 11am the next day, but by then he had already caught a flight to Madagascar, less than 48 hours after being detained.
But he did not want to miss a hearing on his application for French citizenship. It was then that he hatched a risky plan to return to Mayotte in a small fishing boat locally known as the "Kwasa Kwasa".
"I didn't know he wanted to go back to Mayotte," the relative said.
"He didn't tell me or his friends. He said he was sick and needed medicine as there was no water and asked for money. We can drink in the village".
This was the last the relative heard from him.
When the authorities called me to say he was dead, I told them, "No, it's not him: no, it's not him. It can't be him. They sent the photos and I recognized his face."
"Open Cemetery"
Mr Moussa died along with at least 34 others, all of whom were found drowned off the coast of Madagascar on March 12.
Mr. What happened to Moussa was not unusual.
"The lagoon around the island is an open cemetery," says Daniel Gros of the NGO League for Human Rights in Mayotte.
But he adds that there has been no official attempt to determine the number of deaths on the voyage from Madagascar or the Comoros.
"When I have [commencé à travailler ici] In 2012, officials estimated around 10,000 people died there [depuis 2002]. They still give the same number today."
Mayotte has made headlines for riots and unrest as islanders face growing poverty.
They complain about the increase in immigration, mainly from the Comoros, which is weighing on public services.
The French government says one in two people living on the island is a "foreigner" and has pledged to crack down on illegal immigration. It has increased its maritime and aerial surveillance and now deports 24,000 people a year.
As part of a plan to combat immigration, the French government is planning a massive demolition operation known as Operation Wumbushu to remove what it considers illegal settlements or shantytowns.
He strengthened the police and paramilitary presence on the island, increasing it to 1,300 officers.
In a slum called Majikavo, north of Mamoudzou, authorities are already marking some corrugated iron houses for demolition.
Police believe most of the residents of this impoverished neighborhood are illegal, but regardless of their status, many are caught up in the activity.
"We live under constant threat," said Fatima, who has lived in the area for 15 years. "They told us: 'Whether you accept it or not, this place will be destroyed.'"
Fatima, who does not have her real name, is from the Comoros but has a residence permit to stay on the island but cannot travel to mainland France.
French law requires the government to provide "appropriate rehousing" to people whose homes are destroyed. No relocation plans have been announced yet, although some residents have been offered emergency accommodation for up to six months.
Estelle Youssoufa, the French MP for Mayotte who called for the move, believes it is urgent for the government to regain control of these areas.
He was one of two representatives the island would send to Paris.
"It's mainly a question of destroying an illegal habitat that harbors foreign or recently regularized people," he explains to the BBC.
"These shacks are built on stolen private or public land due to illegal occupation. Slums are dangerous areas for the safety and health of those who live there. They are also environmental hazards: their destruction is an emergency. Republican order, safety and health of all".
He called for Paris to stand firm with the Comoros Islands and establish a permanent base on the island for a national navy dedicated solely to the fight against illegal immigration.
"Unless the borders are closed, there is no point in carrying out shack demolition operations on such a large scale."
The Comorian government, which claims the island of Mayotte as an integral part of Comoros, underlined the danger of such a move and asked French authorities not to proceed.
In a statement released this week, he said, "Election promises made in Mayoto to raze slums and evict residents deemed to be in disorderly conditions should not lead to destabilization of an entire region."
As Mayotte is predominantly Muslim, the operation should begin after Ramadan next weekend.
Daniel Croce, a human rights activist, has been highly critical of what he describes as "muscular actions" by the French state.
"If you deport people, it's no wonder they come back. When you see the boats coming in at the same time, we're deporting hundreds of people a day."
Mr. Moussa's tragedy is that he had the right to be French all along, but his desperation to obtain citizenship cost him his life.
"His father was French, his grandparents were French, why should he die at sea?" asks his parents.
"Coffee trailblazer. Social media fanatic. Tv enthusiast. Friendly entrepreneur. Amateur zombie nerd."