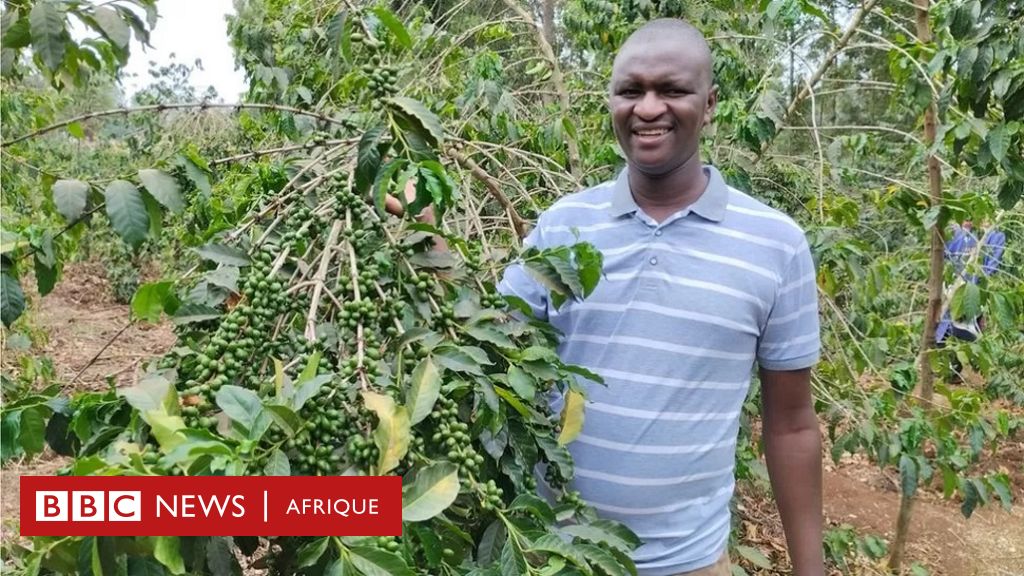 author,

Laura Hyton-Gins

stock,

BBC economics journalist
On the fertile slopes of Mount Kenya, an extinct volcano, Martin Kinyua, a small coffee farmer, has decided against planting new crops.
According to him, the seedlings will simply die from the heat.
"We have a long dry season," he explains. "We are used to two rainy seasons, light rain and heavy rain, but we cannot tell when the light rain will come today.
A member of Mutira Agricultural Cooperative in Kirinyaga County, Kenya, Mr. Ginyua finds that high temperatures attract more pests and diseases, increasing the cost of protecting his produce.
When asked if he never earns money, he answers unequivocally: "Yes, I've felt it: "Yes, I've felt it many times.
Mr. What is happening at Martin's farm gives an idea of ​​the danger that threatens the coffee industry.
The Arabica variety grown by Martin accounts for the majority of coffee beans sold worldwide, about 70%. But it is very sensitive to changes in temperature and humidity. For the past two years, production has not met the demand.
The industry now relies on another variety of coffee to support production: Liberica. Native to West and Central Africa, its commercial cultivation is centered in the Philippines and currently accounts for only 2% of the world's coffee bean harvest.
Because the hard kernel is considered more difficult to process and produces a less desirable flavor, Liberica is now enjoying renewed interest for its hardness in a changing climate.
In a warm, humid greenhouse, Dr. Aaron Davis splits the branches of a slender plant to reveal dark red berries.
This is the Palm House Greenhouse at the Royal Botanic Gardens, Kew, London, which simulates a tropical climate. The red berries, known as coffee cherries, are processed and roasted to create a drink that is loved around the world.
Dr. Davies' work has been undertaken with increasing urgency in recent years.
The results of a recent study suggest that a quarter of the world's Arabica-producing countries will experience significant yield declines if global temperatures rise by 2°C. A 2.5°C increase would affect 75% of distribution.
"We need other types of coffee trees that can grow under modified conditions," he explains. "We find that Liberica coffee is more weather resistant than Arabica.
Asked what would happen if the coffee market didn't change, Mr. Davies calmly replied: "We will have less coffee, prices will rise, but the farmers will be the most affected and threatened".
All of these may result in a change in substance in our cup of coffee.
Romulo, a Filipino cafe in West London, serves Barago coffee, a blend of Liberica and Arabica beans. It is a traditional product in the Philippines.
"When we were growing up in the Philippines, having a Nescafe was prestigious, while the average person drank Baraco coffee," explains Chris Joseph, owner of the establishment.
In front of him, Mr. Joseph scattered a mixture of Arabica and Liberica beans on a plate. Libericas are almost twice as large, about a centimeter longer, and aesthetically more uniform than Arabicas.
"For me, Liberica is sweet. And maybe nutty," says Joseph.
In the past, Liberica was considered an inferior crop to Arabica. Its large kernels are very difficult to harvest and process due to their thick skin and pulp, and their taste is generally considered very bitter.
Like Robusta, the second most traded coffee bean in the world, it is considered a complementary species rather than a main species.
However, Dr Davies and his colleagues in Uganda and South Sudan are focusing on a variety of Liberica with smaller grains called Excelsa, which they believe has a better flavor profile.
However, the spread of Liberica may not be a matter of popularity, but of necessity.
Coffee traders, middlemen between farms and retailers are under enormous pressure to meet growing demand. Volkaffe is one of the world's largest traders, processing around 600 million kilograms of coffee per year.
"Over the past decade, global coffee consumption has grown by 2% per year," says global research head Hannah Risky.
At the same time, Volkoff predicted an "unprecedented third consecutive deficit" in production for the coming year. Ms Risky explains: "Supply is less than demand and when that happens, global stocks are reduced. We expect these stocks to continue to fall.
As for the prospect of Liberica closing the gap, he believes there is "tremendous potential".
"Governments should promote variety, but farmers should understand the varieties they are growing.
Generally, it takes four years for a coffee tree to grow from seed to first harvest. This means a significant investment of time for growers in identifying species, as well as a risk – fruiting is not guaranteed.
But Liberica has already been accepted by the International Coffee Organization – the main intergovernmental organization for coffee – as part of its aim to strengthen the industry.
Its managing director Vanucia Nogueira, who grew up on a small coffee farm in Brazil, says adding Liberica changes the taste of the coffee, so the industry can adapt to demand.
His main concern is the livelihood of farmers, as economic insecurity is a "persistent problem".
"There are many players in this game. Buyers try to manage the market because they think it's good for them. But if there are no producers, there is no chain.
Asked how Volcafe pays farmers, Hannah Risky explains that they "try to make long-term contracts with farmers or suppliers. Sometimes at a minimum price, sometimes set against the world coffee reference price."
He points out that Wolkeff plays a role in supporting farmers.
"It is a long-term investment for farmers, but it is up to us to encourage this production and give them an incentive to try these new varieties.
"Without farmers, we wouldn't have a cup of coffee, but we wouldn't have a business either," he adds.
Back in Kirinyaka County, Mr. Kinyua says low and volatile prices have left him uncertain about his future in agriculture.
"I'm price sensitive. Why shouldn't I get a price that's high enough to make sure I'm continuing to produce to support the market?"
"Coffee trailblazer. Social media fanatic. Tv enthusiast. Friendly entrepreneur. Amateur zombie nerd."