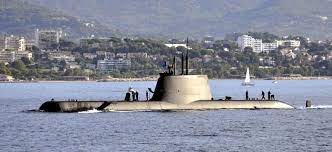 In a press release, the administration said it was the first Portuguese submarine to undertake this type of mission, "underlining that this is the first time a national submarine has crossed the Equator", which "tests the operational logistics capability of the fleet".
The "Open Sea 23.2" initiative aims to "enhance bilateral and multilateral cooperation activities" within the framework of the "5+5 Security" initiative with Morocco.
"During this period, the 'Arpão' submarine will contribute to maritime security in an area located in the South Atlantic Ocean between the coasts of Brazil and West Africa," the navy said.
For 120 days, the submarine will visit two continents and five countries: Cape Verde, Brazil, South Africa, Angola and Morocco, "traveling more than 13,000 miles and totaling 2,500 hours," and Garrison will command. Commander Tavera Pinto.
"The mission of 'Arpão' will contribute to the strengthening of military and diplomatic cooperation relations between Portugal and each of the countries visited, which emphasizes the Day of Portugal, Camos and Portuguese Communities held this year in South Africa. His Excellency the President attended," the statement said.
"The operational characteristics of the submarine allow it to carry out intelligent patrols at any time of the year and anywhere, so that waters under national sovereignty or jurisdiction, or any other that requires its presence, can benefit from an additional guarantee of safe navigation".
"Coffee trailblazer. Social media fanatic. Tv enthusiast. Friendly entrepreneur. Amateur zombie nerd."