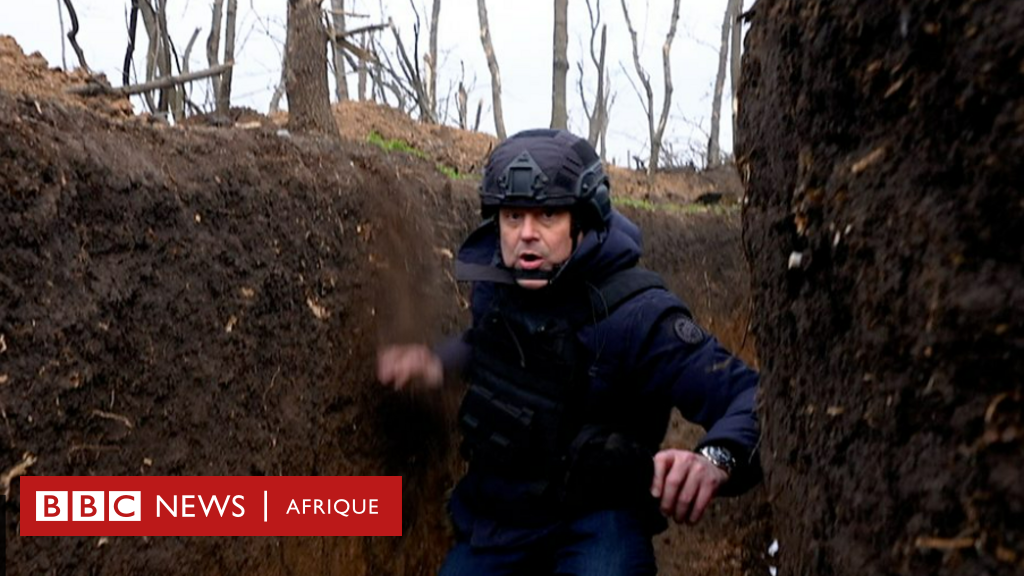 author,

Quentin Somerville

stock,

BBC News

Report from

Velika Novosilka, Donbass
The line of trees seems to disappear piecemeal as we move towards the Russian positions on the outskirts of the small town of Velika Novosilka.
Dima, a Ukrainian Army infantryman from the 1st Separate Tank Regiment, walks cautiously along a path lined with spring clover-clad military boots. The zero line – the last ditch – lies ahead of us. Russian troops are 700 meters away.
Further north, in Bagmut, Ukrainians are losing ground. But here, in the south of Donetsk Oblast, Ukrainian tanks and infantry are holding their ground.
Despite months of ferocious attacks from the Russians, Dima says the brigade lost less than 10 meters of ground. Meanwhile, the Russian forces suffered heavy casualties.
It's a devastating landscape where trenches are exposed to Russian observation posts and surveillance drones. In this front line, the eyes of the Russians are always on the lookout, waiting for an opportunity to attack.
As we pass the infantry trenches, the clover begins to disappear, replaced by mud and bomb craters. Mines and unexploded ordnance litter the ground. The tops of the trees, still bare in winter, are now split and broken. "There was a tank battle here recently," Dima says, "and we pushed them back."
In a trench, a soldier silently shovels red, soft earth. Automatic weapons fire is heard from a nearby village.
"There were frequent fights in the village. Sometimes the whole village caught fire. They threw phosphorus, or I don't know what they were throwing," says Dima. He is over six feet tall and his pale blue eyes are made even brighter by dark circles. His AK-47 is slung over his shoulder; Hang a spoon, a can opener and a small pair of pliers on his bulletproof vest.
The danger lies outside the trenches. A moment of inattention while smoking a cigarette can result in death if a mortar or grenade falls nearby. "In general, they bomb every day," explains Dima, pointing to Russian positions. These men have suffered recent casualties, but they represent only a fraction of Ukrainian casualties in close combat at Bagmut.
Suddenly a shell whizzed overhead and landed on the left of our group. All six of us run for cover and hit the ground. I lose sight of Dima, but someone shouts that a Russian tank is opening fire. A second explosion rang out, covering me with earth.
This time the explosion was close to three meters away. I hide and see Dima standing in a trench. Inside is a wooden shelter in which the four of us are huddled. As Dima lights a cigarette, another explosion occurs nearby.
"They have an unlimited amount of shells," he says. "They have full warehouses. They can shoot all day, and they will never run out of shells. But us? Tanks. I think we will win with this. We are Cossacks. So, good people, we can pass. ."
When their positions come under attack, they hide in trench camps while a soldier scouts for enemy infantry and drones. He learned to cope, he says. "I was scared the first few times. When I arrived. Now that's kind of gone. He's solid as a rock. There are fears, everybody has them."
Another shell falls close enough to knock him down. "That's a good shot," he dusted off, shaking his head.
Dima is 22 years old and comes from the central industrial city of Kremenchuk. He had worked in a petrochemical plant before the war, and like many soldiers fighting here, his adult life had just begun.
When I asked him what he says to his family, he replied: "I don't have a family yet, I have my mother, I don't have anyone else at the moment". He calls his mother both in the morning and in the evening. "She doesn't know much, and I won't tell her everything," he drawls.
Soldiers disagreed about the nature of the Russian fire. This could be a tank, mortar or grenade launcher or a combination of the three in Ukrainian positions. A bearded soldier, covered in grime from days spent at the front, steps into the shelter and makes a swirling motion with his finger.
A Russian drone flies over the area. Even here there is uncertainty, it could be a weapon or a spy drone. There is nothing to do but wait until the dam is finished or until nightfall.
After sunset I leave the men. The tanks of the platoon retaliated against the Russians, and upon my return, a fresh group of soldiers was stationed in the trenches. In the fading light, I watch where I step, remembering the landmines on the road.
Tanks and artillery dominate here, with the battalion's Ukrainian-made T64 Bulat tanks in daily use. "Tankists are like the infantry's big brother," says tank commander Serhiy. "When the infantry gets hurt, the tanks come, but the problem is we can't always come.
The 1st Separate Tank Regiment is one of the most decorated in the army. Its commander, Colonel Leonid Koda, is awaiting the arrival of Western tanks, particularly the British Challenger II, and has already sent men to train on German Leopard tanks.
The enemy "has a completely different objective," he says. "We are defending our state, our land, our loved ones, we have a different motivation. They have no way. Their leaders, their party have told us not to back down. Because to back down is to go to jail. To be hanged. So they are going like a lamb to the slaughterhouse".
In February, the Russians attempted to break through the 30 km front line, a bold move that would endanger the rest of Donetsk. The advance ended in disaster: hundreds of Russians died, dozens of their tanks were lost, and an armored force was almost destroyed.
Colonel Leonid Koda recalls one of the attacks in February around the town of Wuhledar, 13km away, and describes it as "an act of desperation". The enemy force was literally destroyed, he said. "But recently they have started changing tactics.
Much of the Donbass is marked by the dust of the industrial era. Large abandoned factories and monumental slag heaps dominate the landscape, but not here. The town of Velika Novosilka is the land that Colonel Koda's men are particularly protective of.
Before the war, the town had a modern school, an elegant fire station and a three-story kindergarten. Today, all these buildings are abandoned and damaged.
The military driver who takes us into town swerves to avoid a rocket embedded in the road. Another Russian shell lands in a nearby neighborhood, throwing a long arc across the ground into a gray sky.
The small houses and cottages of the town run past the window, and although they are broken down, it is obvious that the town was prosperous before the war.
About 10,000 people lived here, today there are fewer than 200. "Only rats, cats and dogs thrive here, and they hide from the shelling," says one of the soldiers in the car.
At one of the shelters, I meet Irina Popkina, a local piano teacher who is trying to maintain the last fibers of her town. With flaming red hair, she is determined to stay in the city quietly. A few dozen people live in this cold and wet shelter, and Iriana helps take care of the elderly.
She describes what happened to the town as a feeling of "sadness". "It's a beautiful place," he says. "It's a tragedy — a tragedy for who he was, a tragedy for who he is now.
Russian bombs often add to the mountain of misery. In a dimly lit basement shelter warmed by a wood stove, I hear a voice. 74-year-old Maria Vasilievna sits alone on a bed.
Before introducing us, Irina whispers: "She has trouble speaking, her husband was recently killed by shrapnel".
Maria took my hands. "Oh, you're cold," she said, warming them between her.
Her husband, Sergei, 74, was too ill to come to the shelter and stayed at their home as Russian bombs fell in the neighborhood.
In a soft voice, she told me: "He bled to death in the night, I was here, he was at home, I came in the morning, he was not there, we buried him, that's all." They have been married for 54 years.
Before leaving, Irina shows me around the city school. Its pink-painted hallways are littered with debris and windows shattered by Russian bombs. Children's jackets still hang on hooks and homemade Christmas decorations are scattered on a shelf.
On one wall, above a pale blue radiator, is a group photo of a children's soccer team celebrating a victory. On the other side of the window, the same soccer field is covered in craters and nearby climbing structures have been destroyed by bombing. The tail fin of an unexploded Russian rocket protrudes from the playground asphalt.
A piano stands in the hallway, and Irina sits down to play. But the wind doesn't come and the piano is badly damaged. She had no music to play, no children to teach. The last of them were forcibly removed from the city by the police last month and taken to a safe place. Among them was his own daughter.
"There is only the sound of the bombs," she said. "The school is destroyed, the equipment is broken, but everything is fine, we will rebuild it, and the music will play again, as well as the children's laughter.
These are the ties that unite people here, whether they are civilians or soldiers. Resistance determination is a permanent weapon in the Ukrainian arsenal, as essential to the country's survival as any armored tank or infantry trench.
"Coffee trailblazer. Social media fanatic. Tv enthusiast. Friendly entrepreneur. Amateur zombie nerd."